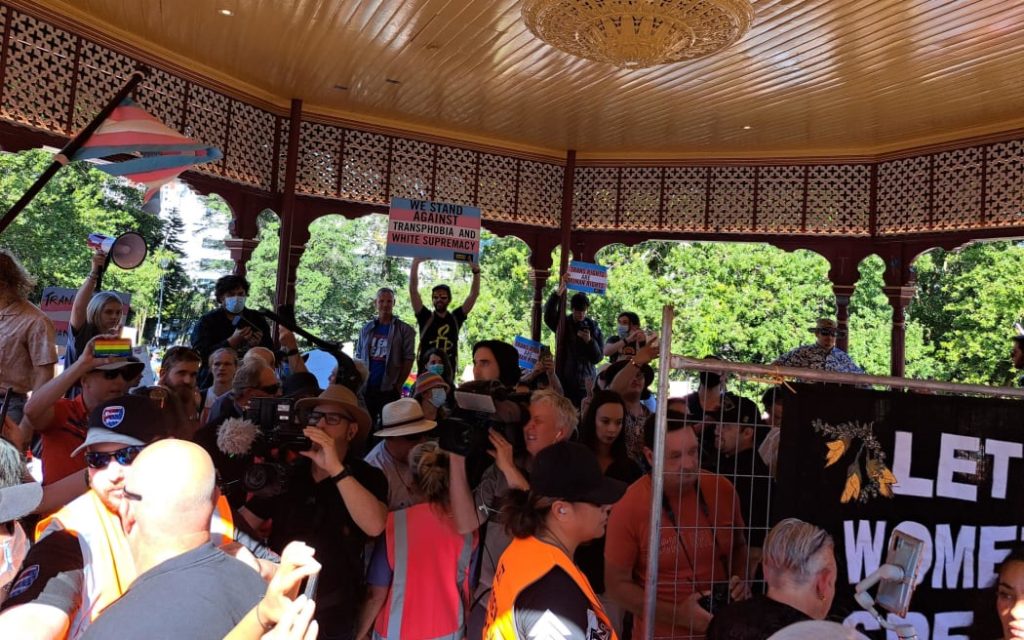 The Stirrer
The scenes in Auckland, New Zealand, on Saturday 25 March when a Let Women Speak meeting was terminated by a mob of trans rights activists has generated a lot of controversy. As you can tell from the title of this post, I have my thoughts on what happened and what it reveals about certain types of activists. They come later on in this piece. Firstly, here are three articles commenting on what happened in Auckland:
– – – – – – – – – – – – – – – – – – – – – – – – – – – – – –
Trans activists make women terrified for their safety at the Let Women Speak rally in New Zealand – Katrina Biggs | A B'Old Woman | Substack | 25.3.23
Caitlin was there, and this is her story below. Like many of us she is very, very angry, and like many of us she is also ready for it to be known.
"All I wanted to do today was speak & try raise some awareness for how some of these contentious issues are affecting women and children. I didn't want to hurt anyone, or scream at anyone or even really engage in protest activity. I just wanted a platform to say my piece."
Kellie-Jay Keen is attacked and mobbed by trans activists in New Zealand – Meghan Murphy | Substack | 25.3.23
Kellie-Jay Keen (also known as Posie Parker), founder of Standing for Women, was to host her Let Women Speak event this morning in Auckland, but was met with a mob of protesters who pelted her with tomato juice and water, yelling, "fuck you cunt" and "go home Posie, go home." Trans activists pushed down metal barriers to mob the 5'1" mother of four. Keen was forced to abandon the event, fearing for her life, and was escorted away through a crowd of deranged, screaming protesters by police and her security team.
The Sheilas will not be silenced – Jo Bartosch | Spiked | 25.3.23
You could be forgiven for thinking that a nation whose inhabitants are used to dealing with giant spiders and glugging schooners of insipid Fosters would be unshaken by a visit from a five-foot-one, middle-aged pom. You would be wrong. Even before her arrival this month, two petitions were circulated demanding that she be refused a visa. And now that she's Down Under, the political classes there have gone into meltdown.
– – – – – – – – – – – – – – – – – – – – – – – – – – – – – –
Regular followers of The Stirrer blog will know that we're no strangers to the rows around gender identity politics. They will be aware that we had our first real introduction to the issue at the ill fated London Anarchist Bookfair that took place in Tottenham on Saturday 28 October, 2017. There was a presence of radical and gender critical feminists at the event. A presence broadly welcomed by the organisers who wanted to encourage a discussion around the issue of gender identity politics. A presence which was not welcomed by the trans rights activists at the event who did not want any kind of discussion and who proceeded to harass the organisers and any radical and gender critical feminists they could find. Anyone who tried to intervene to stop the harassment was subjected to abuse and in the case of one of our comrades, assault.
All of this came from activists who exhort others to 'be kind'. A courtesy they're unwilling to extend to anyone raising questions and concerns about their beliefs. Anyone questioning them is told that the issue is 'not up for debate'. Anyone questioning them is subject to abuse, threats and as we have increasingly seen, actual violence. There's only so much of this anyone can take and our limit was reached a good few years ago. The exhortations to 'be kind' while feeling at liberty to dish it out to anyone who dared to disagree with them prompted us to write this post about the attendance policy at the Anarchist Bookfair in London last year: Double standards? 24.9.22.
If people haven't already been peaked by the antics of the trans rights activists, a good few will be peaked by what happened in Auckland. The thing is that rather than pausing to reflect on the optics of what happened, many trans rights activists are doubling down. From our experience, doubling down on a narrative can be seen as a sign of desperation as it's realised that the game is coming to a close. Let's hope this is the case…
The more I've looked into trans rights activism, the more it's become clearer that it's entwined with the agenda of the transhumanists to the point where it become almost impossible to pull them apart. An analysis that's eloquently expressed in this interview: Who is Behind the Trans Agenda? | Jennifer Bilek Interview. This is something we're starting to address with a number of posts featuring readings looking at the issues involved – this is one of them: A couple of readings about the grim future we face 4.3.23.
To conclude, I'm going repeat something I wrote in a previous post which hopefully, goes some way to explaining why I'm where I am with the issues involved:
Being the wrong side of sixty five, I've only got a few decades left on the clock. As I have two grandchildren, it would be criminally negligent of me to opt for a quiet life. So, I'm doing what I can along with a growing number of others to defeat the dystopian transhumanist agenda, once and for all. I've said this before and make no apology for saying it again… This song from my childhood in the late 1960s – In the Year 2525 – was only meant to be a warning, it wasn't supposed to be the f**king manual! The one thing we will say about the lyrics is that the relaxed timeline of their predictions is getting telescoped into a much shorter period. That in and of itself is frightening.